Community. Identity. Positive Change.
MEC Sunday School is committed to providing Islamic knowledge, values, and morals to instill a sense of community and identity for the next generation of Muslim Americans. We strive to prepare students intellectually, socially, emotionally, and spiritually to succeed and make positive change in tomorrow's world.
If you're passionate about teaching children, dedicated, and hard-working then we'd love to work with you. Please look below for opportunities.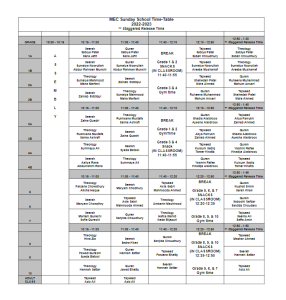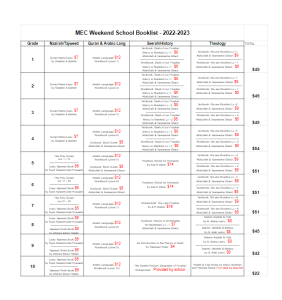 As-salaam mu'alaiykum Parents,
Attached is an updated class schedule. You will note that the **release times are posted staggered according to classes:

Grades 1-2   1:30pm
Grades 3-4   1:40pm
Grades 5-7   1:45pm
Grades 8-10 1:50pm

Again, please come at your student's allotted release time and announce their name(s) to the staff member at the front entrance. Your student(s) will be brought to you. 

Also, attached is an updated book list with pricing. Please note the total amount of all four class textbooks is located at the end of the row.

We will have book sales this Wednesday, August 31, 2022, from 6pm-8pm at MEC Sunday School Office, as well as on Monday, Sept. 5th, from 3pm-5pm. We will also have book sales first day of school, which is Sept. 11th, start time 10am. 

Also, if you are interested in volunteering, please follow this link and select "volunteer" from the drop-down option. Be sure to upload your vaccine information. 

https://www.mecsundayschool.org/staff-registration/

Jazak Allah Khairan,
Principal, MEC Sunday School
———————————————————–
Reminder that MEC Sunday School Registration is open for enrollment for 2022 – 2023 school year.
https://www.mecsundayschool.org/registration/

Please ensure to register and pay tuition for your students so that they may join on first day of school Sunday, September 11th. NOTE: Your Registration will not be complete until payment is received. If you require financial assistance, please contact registrar@mecsundayschool.org
After prayer, Prophet Muhammad (S) would say: O Allah, I ask you forbeneficial knowledge, good provision and acceptable deeds. (Sunan Ibn Majah) As we head into the third week of […]
Hadith: Every good deed is sadaqah (Bukhari) . .
Located in Morton Grove, MEC Sunday School is a weekend Islamic school providing studies in the areas of Nazirah/Tajweed, Quran & Arabic Language, Seerah & Islamic History, and Theology. It's part of the broader Muslim Community Center (MCC) in Chicago under the umbrella of the MCC Part-Time School Council.
To contact us, please click here.