Prophet Muhammad (S) said: Reconcile whoever cuts you off, give to whoever
deprives you, and pardon whoever wrongs you. (Ahmad)
Classroom Ice Cream Competition
Every week we will feature a theme. The class which participates the most and is the most creative will win an ice cream party on March 12th. Please keep all attire Islamically appropriate. Please see the attached flyer for more information. Sunday, Feb. 5th is Favorite Sports Team Day. Students are encouraged to come to school wearing their favorite sports team gear.
Ramadan Prep Competition
Our 4th grade Theology teacher, Sr. Summaya Ali has created a competition for our students to prepare them for Ramadan. Please see the attached flyer for further directions and information.
Seerat-ul Nabi Program
Please be sure your students are preparing for their Seerat-ul Nabi program on Feb. 19th.
Dhuhr Salah
Dismissal will be at 1:50pm
Please see the class grade/section below to see who will be performing Dhuhr Salah in the masjid. Students praying in the masjid will be dismissed from the masjid. Students praying in their classroom will be dismissed from the school.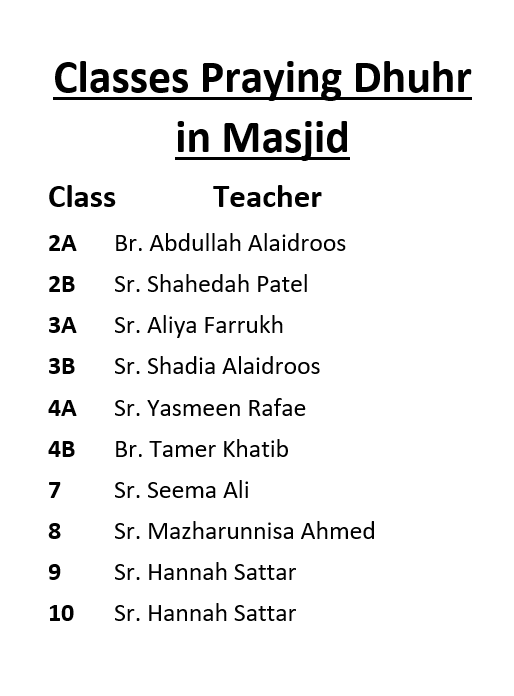 Dhuhr Salah in the school and masjid will begin promptly at 1:40pm
Dismissal
Dismissal from the school and masjid 1:50pm

We highly encourage parents to come and pray with their students in the masjid to give them a feeling of safety and community. We also ask parents to be patient during dismissal as we safely navigate students from different areas.
Please consider signing up to volunteer during dismissal time. https://forms.gle/isn1m6BigqCa2XWDA.
Google Classroom
Please use the following information to log into Google Classroom or reset password:
Email: firstname.lastname@mecsundayschool.org
Password:
DOB in the following format, including dashes: yyyy-mm-dd
If you have issues with the password, use the "forgot password" option to reset the password. If you continue to have any issues with Google Classroom, please contact Br. Afan at Afan@mecsundayschool.org